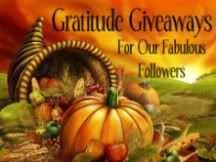 Welcome to the Gratitude Giveaway Follower Appreciation Hop!
I Am a Reader, Not a Writer
is sponsoring the hop with almost 200 blogs. There are two winners here on Reflections with Coffee, one book for each winner.
Giveaway 1
Winner is
J.L. Jackson
When you want to show appreciation on a birthday of a family member or a friend, what do you do? Have some cake! Read about the master of cakes,
Cake Boss.
Delight in the story of his life. Choose one of his recipes. Free Press will mail the winner a copy.
Giveaway 2
Winner is Linda H. of Missouri.
During this time of Gratitude, reflect upon the One we are most grateful to.
Blessed Beyond Measure
devotional journal gives you some ways to reflect upon His Goodness. Thanks to Hachette for this copy. I'll add a green felt pen for the winner to use to write in his/her book.
To enter
--- leave a comment here along with a way I can contact you if you win. I don't require people to be followers -- I want you here because you
want
to be.
Extra entries:
Comment on the
Cake Boss review
with the name of your favorite cake.
Comment on the
Blessed Beyond Measure review
with what you are grateful for.
To see other blogs participating in the Gratitude Giveaway Hop, here's the
link
. Drawing will be early November 29 by random.org; the winners will be contacted by email and given 48 hours to respond.